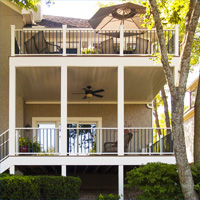 Specialty Construction's Under-Deck Ceiling Drainage System is a quality building product engineered to capture and divert rainwater from the upper deck, keeping the bottom area under the raised deck dry.
The SC Under-Deck Ceiling Drainage System is designed for use with both new and existing decks, and simple to install. Call for a quote on a custom solution for your deck.

---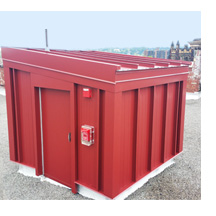 Specialty Construction fabricates customized climate-control enclosures to house air conditioning and heating systems, dehumidifiers, filters and other rooftop equipment installed on commercial and industrial building tops.
Call us if you have a need for a custom rooftop enclosure


---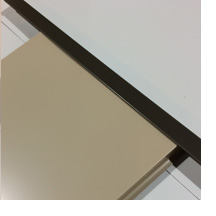 Need custom siding for an addition or existing building? Call Specialty Construction with your plans for a fast free quote.


---
Other sheet metal components that are integrated into Buildings and/or roof systems to improve the weather-tight integrity may include:
• Metal counter-flashings at curbs and other penetrations
• Lead flashings, drains and plumbing vent stacks
• Drain heads, clamps and strainers
• Sheet-metal vents
• Sheet-metal pitch pans
• Through-wall flashings
• Skylight components and flashings
• Smoke hatch components and flashings
• Expansion joints and related components
• Wood blocking and attachment
• Pipe or conduit supports
• Crickets and saddles
• Siding or cladding
• Chimney caps
• Wall cladding
• Permanent safety anchors or guardrails
• Microwave or satellite dish components
• Lightning protection arresters and cables
• Photovoltaic systems
• Roof Edging and Perimeters (GravelStop & Fascia)
• Copings
• Flashing
• Building Expansion
• Metal Roof Systems
• Wall Systems
• Wall and Roof Penetrations
• Louvers, Screens and Skylights
• Interior Architectural Sheet Metal Elements
• Other Custom-Made Sheet Metal Elements