Choose from a variety of materials and finishes for your project needs.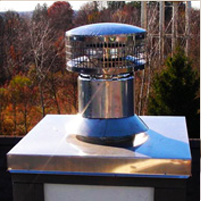 Quickly and easily prevent chimney decay and home damage with the installation of a Chimney Cap, also called a Chimney Chase Cover. A chimney chase cover is a cap that seals off the top of a wood framed or brick chimney chase from the weather (and small birds & animals). Chimney chase covers are typically made from low grade steel that tend to rust quickly after a few years.
Learn More…


---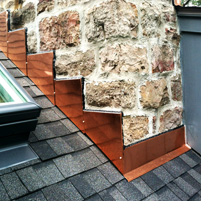 We fabricate custom chimney flashing out of a variety of durable sheet metals to ensure that the connection between the chimney and roof is water-tight for decades. Copper and Stainless Steel are specified most. Call us for a custom quote.


---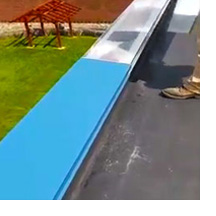 Specialty Construction's lock tight Wall Coping Cap System is a snap-on, durable painted finished sheet metal coping system with no exposed fasteners. It includes a front-hook anchor plate and a rocker spring plate that provides a tight mount.
The Wall Coping Cap covers the entire wall edge and is commonly used on building parapets.
The horizontal top surface of the wall is the most vulnerable point for water penetration. The most effective way to waterproof wall tops or parapets is to cap the wall top with custom fabricated sheet metal coping.
Specialty Construction can fabricate several types of sheet metal coping systems and wall cap flashing, and provide project management and installation service if needed. Call us for a fast quote.
Learn More…


---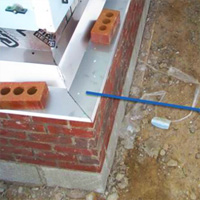 Some newer buildings utilize cavity walls with brick, stone or other exterior veneers. These construction projects have a narrow cavity between the veneer and the interior wall construction. Water penetrating this veneer must be collected and directed back to the exterior. This is done with a water resistant membrane covering the back-up wall and a through wall flashing at the bottom of the wall cavity.
Few people realize the amount of water that can penetrate a brick or concrete block wall during a rain storm. This water needs to be managed in order to prevent leakage and damage to the building wall and interiors.
Let Specialty Construction fabricate water-eliminating flashing for your project. Call Us Today for a fast free quote.


---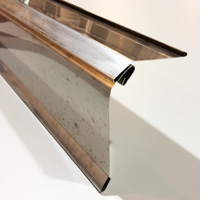 Specialty Construction can custom fabricate a comprehensive selection of moisture prevention flashing products to offer builders superior protection from the elements.
Specialty Construction's flashing products are available in a variety of materials and finishes. They are designed, tested and proven to keep wind and moisture from penetrating the roof system or structure.
Call today for a fast free quote.


---
Custom Sheet Metal For Architects, Builders, and Home Handymen Everywhere